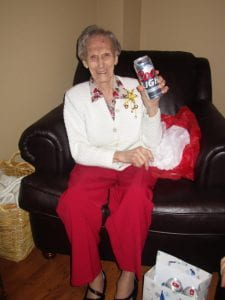 I have always been surrounded by strong women in my life. My grandmothers, my mom, my mother in law, sisters in law, and some AMAZINGLY fierce, determined and resilient friends.
As a child I spent a great deal of time with my grandma Rodgers and grandma LeCourtois. These were two woman with completely opposite personalities. My grandma Rodgers was nurturing, gentle, patient and selfless. We could do no wrong in her eyes and we respected and loved her so much we never ever even thought of misbehaving. On the occasion that my brother and I got a little too rowdy she would say "here, here!" and we would immediately get back in line. We spent countless hours at my grandpa and grandma Rodgers house. All of our Christmas, Easters, Mother's Days, Fathers Days and even some of our summer holidays. My grandma would color with us for hours, play games, bake and cook, read, tell us stories and just be with us! My mom was an only child so my brother and I felt very special and cherished. We admired and respected our grandma and even into our teen years we would walk over and spend our lunch hours with her. She was always a soft place to land and you knew she would be there to listen and to never judge! My boys were fortunate as they also got to know and love my grandma well into their childhood. Gigi was as special to them as she was to my brother and I. My grandma Rodgers taught me to be kind, generous, and love unconditionally.
My grandma LeCourtois was fierce and a little bit scary at times. She was a very tiny woman but was strong and mighty. When we were young we knew that if we crossed a line that we might get a little knuckle on the head and a stern reprimand. Later in my life after my grandpa died my grandma moved down the street from our house. I always felt sad and worried that my grandma might be lonely so I would walk or ride my bike down to her house to see how she was doing. There would always be a National Enquirer on the TV tray, mints in the candy dish and a game of cribbage or Yahtzee. My grandma LeCourtois knew how to have fun. We spent all of our summers with her and my grandpa at the trailer where we camped for the summer. My grandma maintained her trailer until she was in her 90s and too tired to trek the 1 hour drive to get there. My grandma LeCourtois had lots and lots of friends. She went to the lodge, to the Legion, to play cards, to play the piano, or out for drinks. She had an active social life well into her late 90s. My boys loved my grandma LeCourtois and were amazed at how active and with it she was until she passed away at 103! My grandma LeCourtois taught me to be an independent woman, to surround yourself with great friends, to have fun and to live your life to the fullest!
I was such a lucky kid! My mom stayed home with my brother and I until I was in grade 8 and my brother was in grade 6. We would go home every day for lunch, turn on the Flinstones and have an amazing meal. Sometimes it was our supper time if my dad was working afternoons. My mom would cook a full meal and we would sit as a family at the table and eat together, say goodbye to my dad and then head back to school. My mom baked, sewed, and took amazing care of our home and her family. She never complained and seemed to get great joy out of being our mom. She was a lot like her mom but with a touch more worry and a little less patience! My brother fell victim to the wooden spoon a lot more than I did but one sharp bang on the counter and I would get back in line. My mom did go back to nursing when my brother and I were older and worked her way up in her career until she was a Director of Nursing in several homes for the county. She had a lot of responsibility and stress in her job and she modeled for me how to be a successful working mom, always putting my brother and I before anything else. I know now what a sacrifice that must have been.
Later in life along came my mother in law. My mother in law was not like my mom at all. She was one of the most selfless and charitable people I had ever met. She would literally give you the shirt off her back if you needed it. My husband is the oldest of 4 and has 3 younger sisters. All of whom tested their mother's patience throughout their adolescence. Despite doing so much for so many and trying to make a difference in the community my mother in law always put her family first and I mean her whole family! Her siblings, their spouses and their children. My mother in law certainly played the part of the responsible caretaker and has never turned her back on anyone in need. She taught me what it was like to be resilient, grateful, charitable and hardworking! She did not have an easy childhood but despite its challenges she was grateful for her family. Through all of the hardships she relied on her siblings and mother and never ever forgot where she came from and how lucky she was to have the love of a family.
I feel so fortunate to have been raised by these strong women. I know that all of them have contributed to who I am as a person and more importantly as a mother. I hope that my boys can find little bits of all of these women in me and that they can carry these parts forward into their lives and perhaps parenthood one day.
Thank you to all of the women in my life who have made me a better person, wife and mother! I love you all!