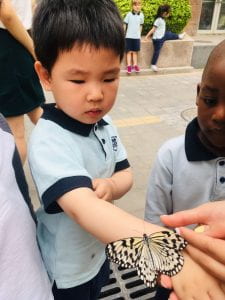 Pictures are credited to Dyan Bernardo and Clare Campbell our amazing PreK teachers.
Our PreK and grade 1 students have been studying lifecycles and seeing the metamorphosis from caterpillar to butterfly. They are so intrigued, curious and filled with wonder and awe. Our grade 1s have created their own green screen videos to share their understanding of the transformational process of the lifecycle by looking at lady bugs, frogs, chicks and butterflies as well.
Their focus on lifecycles and watching their learning made me think about the lifecycles of teachers in an international context. Both have a powerful impact and leave a lasting legacy.
We are about to enter into the end of the school year. We have 12.5 days left to be exact! At the end of this school year we will be losing around 20 teachers. Some have become new parents and will be home with their babies. Some will be moving onto new schools in new countries. Some will be heading back to their home country to begin a new life or ease into retirement.
There is a typical lifecycle of a teacher in our school. Many of our teachers came to CISB right out of teacher's college. Brand new baby teachers full of wonder and awe ready to make their mark on the international world and to follow their passion and sense of adventure. They started out with nothing but their student teaching experience and took advantage of the support and nurturing from coaches, PYP coordinators, colleagues and administrators past and present and began to grow and change. They observed, experimented, tried, failed and succeeded. There were tears, laughter, pride and accomplishments and then a need for change.
Many began finding themselves uncomfortable in their environment feeling a push or pull to go somewhere else and try a new challenge. Some followed friends or colleagues and some just branched out on their own. They were ready to fly! To try new things, to grow in a different context! To take all of the experiences and knowledge CISB has given them and to see what they can do in a new place.
These are talented teachers! Teachers with open minds, willing to take risks, wanting to see the world and make their impact on it! Teachers who want to make a difference. So now they are getting ready for their new journey. Packing their things, creating lasting memories, saying good byes and preparing to go. It is both a happy and sad time! Those left behind are happy to see these young teachers spreading their wings and continuing to grow but we are also sad. Sad to know that their time with us is over and that we will no longer be together. We know that this is just part of the cycle but we will miss them and do not know when our paths will cross again.
We are losing other teachers as well…..
Teachers who came to CISB with a few years of experience and had just begun to grow into their role and needed or wanted a different experience, or a place to grow and experiment. A new country, a new curriculum, professional learning and support or a fresh start. A place where they knew they would receive coaching and support to do so. Some of these teachers are leaving experienced and well prepared. Ready to go into a leadership position, continue their education or move to middle or high school. They want to use their experience to take on a new challenge and to continue to grow in their career. They have set goals, carefully chosen their next steps and know they need a new or different experience to achieve these goals.
A very few of our teachers are at the end of their career and wanted to end it here because they still felt they had something to give to students. They challenged themselves, learned about a new culture and new context. These teachers are leaving fulfilled, accomplished and proud. They were able to extend their careers and to find new challenges in a new context. They may have even learned something new about themselves. They are ready now to settle into a quieter life where they can begin to do things in their lives they have wanted to do! No bells, no lesson plans, no marking, no report cards and no more recess duty. Their time is their own! Some of them may become a student themselves learning a new hobby, sport or even vocation. They have time to explore their passions and to find things to occupy their time that they love and enjoy!
CISB is a wonderful place to grow as a teacher no matter how long you have been teaching. There is opportunity for everyone to change and follow their own path or cycle. We will miss those who are leaving but are also excited by the new staff who are starting their journey with us. The cycle continues!